Wednesday, August 31, 2005
CNN offers its picks for the best and the worst of 2005. Winn actually picks Penn State to be a surprise team.

You can tell I'm board and can't wait for Saturday. Still, the pre-season predictions make for great humor come January. And, I just ammended my 2003 FEDERAL tax return this week. I owe the IRS $8 plus interest.

Looks like Mr. Leinart might win back to back trophies, at least in August and according to the experts. What do they know? File this one away for a cold and wet Saturday in December.

Tuesday, August 30, 2005
If he can do it so can I. Mirek goes Haiku 4 U!

Zook is now in charge
The ole chief is living large
I-R-S sur-charge

You gotta read this one. The story of what the Auburn players did to the 1896 Georgia Tech team is hilarious. Guess who their coach was? Hmm - a Mr. Heismann.

I agree with the soft schedule of Texas Tech! Things could be worse if you attend the University of Central Florida.

Dennis Dodd weighs in with his crystal ball in 2005. He even predicts some major upsets for the year. Read on!

Sunday, August 28, 2005
From the not surprising file, the Broncos informed Clarett today that he is no longer part of their team. Where does he go from here?

Pretty good summary of the new leaders on campuses this fall.

Born in 1986. Now I feel old. But, to start the season in Knoxville, Eric Ainge (Hillsboro, OR) will lead Tennessee to what they hope will be another SEC title. How did he escape the state of Oregon? The Smokey Mountains are a pretty part of the country, especially in the fall.

ESPN.COM put together a pretty impressive list of the big games this fall. While they are many good ones, what's bigger than Ohio State and Texas in the SHOE? That Notre Dame / USC game in South Bend on October 15th is looking more and more interesting as the season draws nearer.

Check out their crystal ball section where they go conference by conference for the entire year. Some help for those who need it. Good luck!

Saturday, August 27, 2005
Vince Young and the HORNS look to win in one of the most hosile college enviros. Hook - 'EM HORNS, Baby!

Mirek's Early Longhorn / Buckeye Prediction....
This is going to be a great game. NCAA football needs more of these early big-team interconference match-ups. They're great for the players, the teams, and of course the fans. Unless it's a blow-out (which I don't see in this one); neither team really has much to loose. Either one can still win their respecitive conference during the regular season. Don't get me wrong, the winnner will be in the driver seat for a national title.


I see this as a smash-mouth game. Both teams have great defenses. Ohio State brings the power and Texas brings the speed. Both are great tackling teams. We'll see if the offenses are able to keep up with that intensity this early in the season. Whichever offense gets it in gear and can sustain it for 60 minutes will probably win. I don't see this as a high-scoring game.


Look for a close one throughout. I see Texas pulling away very late in the 4th quarter with its running game and the play of Vincent Young. Troy Smith might be a little rusty since he as to sit out week one. I like the HORNS in the SHOE: 17-13. Hook - 'EM Baby!

Friday, August 26, 2005
CNN/SI's Top 15 Games of The Year (Pretty Good Ones!)
#15 ND @ Washington (September 24th).
#14 Pitt @ Louisville (November 3rd).
#13 Boise State @ Fresno State (November 10th).
#12 Toledo @ Bowling Green (November 22nd).
#11 Miami @ Va Tech (November 5th).
#10 Florida vs. Georgia (October 29th).
#09 Iowa @ Purdue (October 8th).
#08 Tenn @ LSU (September 24th).
#07 Boise State @ Georgia (September 3rd).
#06 Miami @ Florida State (September 5th).
#05 Michigan @ Iowa (October 22nd).
#04 Tenn @ Florida (September 17th).
#03 Oklahoma vs Texas (October 8th).
#02 USC @ CAL (November 12th).
#01 Texas @ Ohio State (September 10th).

Wow! Can you think of a better regular season non-conference game in modern history?

Monday, August 22, 2005
Blame the BCS Mess on Bradshaw....
Now this makes sense. The Harris pole replaces the AP pole as one of the 3 polls used in the BCS. The USATODAY poll and compilation index (computer rankings) are the other two inputs. On the Harris pole committe are Terry Bradshaw and Lou Holtz. I feel better now:

HARRIS POLL VOTER LIST:
Aillet, Bobby
Hicks, Tommy
Newhouse, Dave
Battle, Bill
Hines, Clarkston
Perles, George
Bartow, Gene
Holtz, Lou
Podolak, Ed
Bestwick, Dick
Holub, EJ
Pont, John
Biddle, Joe
Housel, David
Preece, Steve
Bishop, Blaine
Ismail, Rocket
Rash, Jason
Bokamper, Kim
Jacoby, Fred
Rice, Homer
Bradshaw, Terry
Johnson, Charlie
Richter, Pat
Browning, Wilt
Kerkhoff, Blair
Roach, Paul
Bruce, Earle
Kern, Mike
Roda, Kenny
Buckner, Brentson
Kramer, Roy
Schiller, Harvey
Casciola, Bob
Lacewell, Larry
Schmidt, Dr. Terry R.
Cavagnaro, Charlie
Lapham, Dave
Schultz, Dick
Congemi, John
Lapides, George
Selmon, Lee Roy
Crouthamel, Jake
Largent, Steve
Sheridan, Dick
Crowder, Eddie
Lawless, Robert
Shipp, Ken
Dalis, Peter
Lengyel, Jack
Smallwood, Irwin
Davis, Charles
Lessig, Jim
Smith, Jim Ray
Dawkins, Pete
Lewis, Ferd
Smith, Larry
DiNardo, Gerry
Lewis, Ted
Smith, Sam
Dooley, Bill
Lucas, Mike
Spani, Gary
Donnelly, Boots
Lude, Mike
St. Amant, Lou
Duhe, Kevin
Luicci, Tom
Stephenson, Ron
Dykes, Spike
Mackovic, John
Stokley, Nelson
Elliott, Bump
Maynard, Don
Sweeney, Jim
Emanuel, Bert
McCauley, Don
Taylor, Rick
Esiason, Boomer
McConnell, Joe
Taylor, Whit
Fambrough, Don
McGee, Mike
Thompson, Jack
Fazio, Foge
McIlhenny, Lance
Toner, John
Frederick, Bob
Melick, Ray
Townsend, Steve
Geiger, Andy
Miller, Ted
Tuckett, Glenn
Glazier, David
Moody, Darrell
Urick, Max
Grabowski, Jim
Morse, Jim
Valdiserri, Roger
Grace, Mike
Morton, Craig
Wagner, Bob
Grim, Bob
Moss, Jack
Weedon, Frank
Haden, Pat
Munoz, Anthony
Windegger, Frank
Hammel, Bob
Neinas, Chuck
Yeoman, Bill
Harmon, Dick
Neverett, Tim
Yoshida, Hugh

More Pre-Season Hype and Predictions:
These are by Stewart Mandel of CNN/SI. Got to give him credit for bravery. Again, check-back in December. Don't worry, North Texas is still going to the New Orleans Bowl. Some others are interesting:

Rose
USC (BCS No. 1) vs. Ohio State (BCS No. 2)

Orange
Virginia Tech (BCS) vs. Tennessee (BCS)

Sugar
Florida (BCS) vs. Louisville (BCS)

Fiesta
Texas (BCS) vs. Iowa (BCS)

Capital One
Michigan (Big Ten No. 2) vs. Auburn (SEC No. 2)

Gator
Miami (ACC No. 2) vs. Notre Dame (Big East No. 2)

Outback
Purdue (Big Ten No. 3) vs. Alabama (SEC)

Cotton
Oklahoma (Big 12 No. 2) vs. LSU (SEC)

Liberty
UTEP (C-USA champ) vs. Clemson (at-large)

Houston
Iowa State (Big 12) vs. Maryland (ACC)

Meineke
Pittsburgh (Big East) vs. N.C. State (ACC)

Peach
Florida State (ACC No. 3) vs. Georgia (SEC)

Music City
Michigan State (Big Ten No. 6) vs. Arkansas (SEC)

Independence
Texas Tech (Big 12) vs. Georgia Tech (at-large)

Sun
Cal (Pac-10 No. 3) vs. Minnesota (Big Ten No. 5)

Holiday
Arizona State (Pac-10 No. 2) vs. Texas A&M (Big 12 No. 3)

Emerald
UCLA (Pac-10 No. 6) vs. Utah (MWC No. 2)

Alamo
Penn State (Big Ten No. 4) vs. Nebraska (Big 12 No. 4)

MPC Computers
Boise State (WAC) vs. Boston College (ACC)

Insight
Oregon (Pac-10 No. 4) vs. Rutgers (Big East)

Champs Sports
Virginia (ACC) vs. Missouri (Big 12 No. 7)

Motor City
Bowling Green (MAC No. 1 or 2) vs. West Virginia (at-large)

Hawaii
Memphis (C-USA No. 3) vs. Fresno State (WAC)

Fort Worth
Southern Miss (C-USA No. 4) vs. Kansas State (Big 12 No. 8)

Poinsettia
BYU (MWC) vs. Nevada (at-large)

Las Vegas
Washington State (Pac-10 No. 5) vs. Wyoming (MWC No. 1)

GMAC
UAB (C-USA No. 2) vs. Toledo (MAC)

New Orleans
North Texas (Sun Belt No. 1) vs. Tulane (C-USA)

Check-Back in December.....
This is interesting. We'll have to check-back in December. My guess is by then they won't look the same. Here's what CBS is projecting:

Rose Bowl
Jan. 4Pasadena, Calif.BCS #1 vs. BCS #2
Comment: Southern California and Iowa face off in the Rose Bowl as the top two ranked teams in the BCS.

Orange Bowl
Jan. 3Miami, Fla.BCS vs. BCS
Comment: Louisville claims the Big East title and Virginia Tech wins the ACC, landing both teams in the Orange Bowl.

Sugar Bowl
Jan. 2New Orleans, La.BCS vs. BCS
Comment: Tennessee lands in the Sugar Bowl as the SEC champ. Ohio State earns a trip to New Orlenas as an at-large pick.

Fiesta Bowl
Jan. 2Tempe, Ariz.BCS vs. BCS
Comment: Florida heads to the Fiesta Bowl as the second at-large team, while Texas earns a spot by claiming the Big 12 title.

Sunday, August 21, 2005
Leinart on USC
Ali would love this. Southern California has the title, the talent and the bravado. Who the hell cares what anyone else thinks?
I'm a baaaad man.
"Really, we're not concerned with any other team," says quarterback Matt Leinart. "Our focus, our goal, is to do it again."
HOT and NOT for 2005!
What's Hot and Not for the 2005 College Football Season

HOT

NOT

Visors. Stevie Boy's is back where he belongs, on a college sideline.
Quarterbacks. College football lost a banner class of QBs. Among them: Alex Smith, Aaron Rodgers, Jason Campbell, Jason White, Stefan LeFors, David Greene, Matt Jones, Kyle Orton and Timmy Chang. That's a lot of missing yards, touchdowns and leadership.
Seats. The quick coaching hooks at Florida, Notre Dame, Washington and Mississippi last year proved that winning has never been a more urgent priority. This year's endangered list includes (but is not limited to) Rich Brooks at Kentucky, Houston Nutt at Arkansas, Mike Shula at Alabama, one-third of the Big 12 and almost half of the ACC (led by perennial hot seater Tommy Bowden at Clemson).
Legends. After owning the ACC since '92, Bobby Bowden's Florida State team looks like the league's third-best in '05 -- if everything goes well. If not, we could be talking mid-pack. Joe Paterno has seven home games at Penn State -- and he'll need all of them to eke out his first winning season since 2002. Steve Spurrier inherits just nine returning starters and a sketchy team attitude at South Carolina.
USC. Any questions? Matt Leinart. Reggie Bush. Pete Carroll. Song girls in sweaters. Traveler galloping the sidelines. SoCal sun and fun. Currently the coolest football school on the planet.
Oklahoma. Nice to have Adrian Peterson back, but there's uncertainty at quarterback and in the swagger department. Are the Trojans' cleat marks removed from the Sooners' psyches yet?
The spread offense. Urban Meyer plugged Alex Smith into the spread at Utah and saw him become the No. 1 NFL draft pick. The guy Meyer left in charge two stops ago, Bowling Green's Gregg Brandon, saw his QB, Omar Jacobs, throw for 4,000 yards and 41 TDs last year in the same offense. Defensive coordinators, you are hereby challenged to find the antidote to the spread.
Soft corner coverage. More and more defensive coordinators want cornerbacks who can press receivers off the line of scrimmage, challenging the easy releases and easy short-yardage completions. The trick is finding corners big enough to be physical with wideouts and fast enough not to be burned deep.
The ACC. The erstwhile basketball league adds a quality 12th team (Boston College) and a championship game to shoulder up alongside the SEC and Big 12 in the Supersized Conference Category.
Conference USA. It has enough members to hold a championship game, too -- if anybody cared. The league loses marquee member Louisville and two other solid programs in South Florida and Cincinnati. The only news coming out of C-USA in '05 could be Memphis running back DeAngelo Williams' Heisman Trophy bid.
Instant replay. All the major conferences will dabble in it, after the Big Ten led the way.
Using TiVo for instant replay. The Big Ten's average replays dawdled along at about 2 minutes per stoppage of play according to ACC officials, in part because its on-the-cheap equipment was slow. Most leagues are using a faster computer technology this year.
The SEC West. Two years ago LSU rode in from outside the preseason top 10 to win half the national championship. Last year Auburn rode in from outside the preseason top 10 to go 13-0 and finish a controversial second. With some development at quarterback, either could be back in the title mix again this year -- and keep an eye on Alabama, too.
The Big 12 North. Nobody in the division finished with a winning league record last year, and nobody sees a sure breakthrough team this year, either. But don't sleep on Iowa State, which avoids playing both Oklahoma and Texas.
Orange. Texas, Tennessee, Florida and Virginia Tech all have it in their color schemes, and all look like top 10 teams.
Green. Matt Leinart turned down a pile of it to play one more season of college ball.
Sophomores ready to break out. Cal running back Marshawn Lynch averaged 8.8 yards per carry backing up J.J. Arrington. Louisville quarterback Brian Brohm (right) completed 67 percent of his throws backing up Stefan LeFors. Miami tight end Greg Olson averaged 17 yards per catch backing up Kevin Everett. USC outside linebacker Keith Rivers had 2.5 sacks backing up Matt Grootegoed.
Senior QBs trying to prove themselves. Georgia's D.J. Shockley has seemingly been waiting forever for his shot. Ole Miss' Micheal Spurlock couldn't handle his opportunity to replace Eli Manning, but gets a second chance under Ed Orgeron. Clemson's Charlie Whitehurst went from celebrated sophomore to castigated junior after a 7-TD, 17-pick season. BC's Quinton Porter is the key to a big ACC debut season for the Eagles. Colorado State's Justin Holland was a higher-rated recruit than Alex Smith, but he's been inconsistent and injured. Colorado's Joel Klatt can look unstoppable or terrible, sometimes in the same game. North Carolina's Matt Baker hasn't played much in three years, but coach John Bunting is high on him.
Louisville. One of the aspiring BCS Busters from last year is now a BCS Insider. The high-octane Cardinals could go undefeated in their first season as a Big East member and lobby for the Rose Bowl.
Utah. The school that actually did bust the BCS paid the price for its success, losing its coach (Meyer), quarterback (Smith) and offensive coordinator (Mike Sanford, now the head coach at UNLV). Back to reality for the Utes.
Two-way players. Boston College's converted cornerback Will Blackmon will start at WR and play nickel back, in addition to returning kicks. BC linebacker Brian Toal will see time as a short-yardage fullback. Miami's Devin Hester will play DB and perhaps some WR, in addition to being the scariest kick returner this side of Ohio State's Ted Ginn.
Jim Tressel's conservative use of Ginn last year as a true freshman. Speaking of Ginn: he'll start at WR and run back kicks, and could also play some DB. In other words, he'll get the ball much more often this year -- or Tressel will have to fight his way out of Ohio Stadium.
The WAC at the top. Boise State and Fresno State both look like Top 25 teams, and both have shock-the-world opportunities: Boise at Georgia Sept. 3 and Fresno at USC Nov. 19.
The WAC at the bottom. Losing UTEP to C-USA hurt, and new additions Idaho and Utah State won't add much.
ACC defensive linemen. Mathias Kiwanuka at Boston College. Darryl Tapp at Virginia Tech. Eric Henderson at Georgia Tech. Mario Williams and Manny Lawson at NC State. Baraka Atkins and Orien Harris at Miami. No league will be sending more front-four heat at QBs.
SEC quarterbacks. The league's coaches voted a quarterback who last year threw for less than 2,000 yards and 10 touchdowns (Jay Cutler of 2-9 Vanderbilt) as its preseason first-team all-conference choice. Seems like a few SEC coaches must think Florida's Chris Leak (3,197 yards and 29 TDs last year) is overrated.
The passing game at Notre Dame and the running game at Georgia. Charlie Weis is polishing up Brady Quinn with a sharp new attack. The Bulldogs return all five OL starters, three talented RBs and install a running threat at QB.
The passing game at West Virginia and the running game at Oregon State. The Mountaineers lost QB Rasheed Marshall and his backup, and their top four pass catchers. The Beavers averaged just 2.2 yards per carry last year and lose everyone who ran for more than 20 yards in 2004 -- but they like Florida transfer Jimtavis Walker at RB.
Big 12 September scheduling. In an era in which nobody wants to go play anybody on the road, check out these early nonconference trips: Texas A&M at Clemson, Sept. 3; Texas at Ohio State, Sept. 10; Oklahoma at UCLA, Sept. 17; Colorado at Miami, Sept. 24.
Texas Tech's September schedule. The Red Raiders apparently didn't get the league's memo. Their nonconference slate consists of home games against Florida International, Sam Houston State and Indiana State. Yes, the Big 12 South is murder, but for a school riding a streak of 12 straight non-losing seasons, that's pathetic.
Black quarterbacks. It might only still be an issue to Rush Limbaugh, but Phil Steele's preview magazine rates African-Americans as five of the nation's top six QBs: Vince Young of Texas; Reggie McNeal of Texas A&M; Chris Leak of Florida; Omar Jacobs of Bowling Green (above); and Brad Smith of Missouri.
Black coaches. Three quit or were fired last season, and only three will coach this season: Mississippi State's Sylvester Croom, Washington's Tyrone Willingham (above) and UCLA's Karl Dorrell.
Familiar old faces in obscure new places. Say hello again to Frank Solich (Ohio), Dick Tomey (San Jose State) and Hal Mumme (New Mexico State).
George O'Leary. The familiar old face went 0-11 last year in his obscure new place, Central Florida. Year 2 greets him with an upgrade to a tougher conference (C-USA from the MAC) and seven road games, including the opening act of the Spurrier Era in South Carolina Sept. 1. Thanks for nothing.
Media pullouts from the BCS. AP doesn't want its poll to be an accomplice to mayhem, and ESPN doesn't want its name on a coaches' poll that clings to secrecy until the final pre-bowl ballot.
The BCS. Can't wait to see how the annually tweaked formula blows up this year, and who the aggrieved parties will be. Meanwhile, the Harris Poll -- motto: ???? -- should be interesting.
Famous family names in key spots. Skip Holtz, son of Lou, takes over as coach at East Carolina. Marcus Vick, brother of Michael, follows in Mike's very fast footsteps as starting QB at Virginia Tech after being suspended last year.
Nick Saban sideline shots. The guy the cameras seemed to love is off making grown men cry in the NFL now.
ESPN POWER 16 - WEEK 1
ESPN.com's Power 16 Week 1
RANK
TEAM
RECORD
POINTS
COMMENTS
1
USC (15)
13-0
268
Doubt USC's dominance? Cue up the first half of that 55-19 smashing of Oklahoma in the Orange Bowl, then get back to us.
2
Texas (1)
11-1
228
QB Vince Young and RB Selvin Young will rack up yardage. But to win the Big 12 and beyond, the 'Horns need help from the passing game.
3
Michigan (1)
9-3
200
Michigan is again loaded at wideout with Steve Breaston and Jason Avant. But the best chance to stop this team is to shut down running back Mike Hart.
4
Virginia Tech
10-3
193
The wait is over. The Marcus Vick Era has begun. Vick still has to win over Hokie Nation, however.
5
Ohio State
8-4
190
Expect the Buckeyes to lean heavily on true freshman Maurice Wells, who rushed for 5,955 yards and 55 TDs in his high school career.
6
Tennessee
10-3
166
For a team with BCS aspirations, ranking 98th in kickoff returns and 104th on punt returns is laughable. But CB "Inky" Johnson may stave off further embarrassment.
7
Miami
9-3
162
You'll hear this a time or two (or more) this year. Don't kick it to Devin Hester, especially on punt returns.
8
Florida
7-5
151
Chris Leak has shown he's a great passer. Give him time in the pocket, and he'll pick you apart with those receivers.
9
LSU
9-3
149
LSU is going to have to throw the ball to have success. Right now, that means opposing secondaries have the advantage.
10
Oklahoma
12-1
146
If they're going to make another BCS run, you'd figure settling of a QB would be a top priority. Then again, how hard is it to turn and hand off to Adrian Peterson?
11
Iowa
10-2
120
A young defensive line could be a key for Iowa. All four starters from the line are gone, and their replacements had zero sacks and nine tackles last year.
12
Louisville
11-1
101
Quarterback Brian Brohm's potential is why Louisville has been tapped to top the Big East, despite losing six players to the NFL draft.
13
Purdue
7-5
38
Purdue's five losses last year were by a total of 14 points. That needs to change this season.
14
Georgia
10-2
37
Georgia's wideouts are unproven, which means the heat will be on quarterback D.J. Shockley.
15
Florida State
9-3
35
If he were at any other school, senior RB Leon Washington would be a Heisman candidate. Instead, he'll split carries with Lorenzo Booker.
16
Texas A&M
7-5
27
Coach Dennis Franchione knows what he wants: a multiple offense, an aggressive defense and toughness on both sides. He's still working on the last two.
Others receiving votes: Auburn, Cal, Texas Tech, Boise State, Boston College, Arizona State, NC State, Bowling Green, Virginia, Alabama, Nebraska, Oregon, Penn State, Wyoming.
YOUR 2005 AP Pre-Season Top 25!
The Top 25 teams in The Associated Press preseason college football poll, with first-place votes in parentheses, 2004 records, total points based on 25 points for a first-place vote through one point for a 25th-place vote, and final ranking:
Pos
Team
Record
Points
Previous
1.
Southern Cal (60)
13-0
1,619
1
2.
Texas (4)
11-1
1,500
5
3.
Tennessee
10-3
1,376
13
4.
Michigan
9-3
1,329
14
5.
LSU
9-3
1,291
16
6.
Ohio St.
8-4
1,205
20
7.
Oklahoma
12-1
1,204
3
8.
Virginia Tech
10-3
1,184
10
9.
Miami
9-3
1,142
11
10.
Florida
7-5
1,080
--
11.
Iowa
10-2
1,011
8
12.
Louisville (1)
11-1
892
6
13.
Georgia
10-2
869
7
14.
Florida St.
9-3
764
15
15.
Purdue
7-5
711
--
16.
Auburn
13-0
650
2
17.
Texas A&M
7-5
576
--
18.
Boise St.
11-1
375
12
19.
California
10-2
358
9
20.
Arizona St.
9-3
313
19
21.
Texas Tech
8-4
256
18
22.
Boston College
9-3
232
21
23.
Pittsburgh
8-4
211
25
24.
Fresno St.
9-3
196
22
25.
Virginia
8-4
153
23
Others receiving votes: Alabama 121, Oregon 97, Utah 77, Georgia Tech 62, Bowling Green 57, N.C. State 57, Colorado 38, UCLA 19, Iowa St. 18, Minnesota 18, Miami (Ohio) 15, Penn St. 11, UTEP 10, Oregon St. 8, Wisconsin 5, Clemson 3, Memphis 3, Nebraska 3, Colorado St. 1, Notre Dame 1, Southern Miss. 1, Toledo 1, West Virginia 1, Wyoming 1.
Friday, August 19, 2005
Zook in the pool at Rantoul!
The team enjoys a cool break in the pool at the Rantoul Water Park after concluding 2 weeks of good practice.

Thursday, August 18, 2005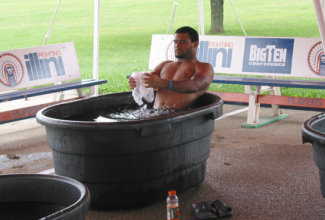 Main-man EB Halsey takes a cold-one after practice at camp Rantoul. He is going to carry the load with Thomas and Davis this year in the Illini back-field.

Thursday, August 11, 2005
ESPN / ABC College Football Schedule
Here it is or checkout the link (all times Eastern - it's an East - coast world):
http://sports.espn.go.com/ncf/news/story?id=2043952
ABC/ESPN/ESPN2/ESPNU/ESPN Classic 2005 College Football Schedule
DATE
GAME MATCHUP
TIME (ET)
NETWORK
Thu., Aug. 25
Benedict at Morehouse
7:30 p.m.
ESPNU
Thu., Sept. 1
Vanderbilt at Wake Forest
7 p.m.
ESPNU
Thu., Sept. 1
Oregon at Houston
7 p.m.
ESPN2
Thu., Sept. 1
Central Florida at South Carolina
7:30 p.m.
ESPN
Thu., Sept. 1
Minnesota at Tulsa
10:15 p.m.
ESPN2
Fri, Sept. 2
Indiana at Central Michigan
7:30 p.m.
ESPNU
Fri, Sept. 2
Arizona at Utah
8 p.m.
ESPN
Sat., Sept. 3
Bowling Green at Wisconsin
Noon
ESPN
Sat., Sept. 3
Rutgers at Illinois
Noon
ESPN2
Sat., Sept. 3
Ohio at Northwestern
Noon
ESPNU
Sat., Sept. 3
Miami (Ohio) at Ohio State
Noon
ABC
Sat., Sept. 3
TCU at Oklahoma
Noon
ABC
Sat., Sept. 3
Alabama State vs. South Carolina State
3:30 p.m.
ESPN2
Sat., Sept. 3
South Florida at Penn State
3:30 p.m.
ESPNU*
Sat., Sept. 3
Northern Illinois at Michigan
3:30 p.m.
ABC
Sat., Sept. 3
Boston College at BYU
3:30 p.m.
ABC
Sat., Sept. 3
Washington vs. Air Force
3:30 p.m.
ABC
Sat., Sept. 3
Boise State at Georgia
5:30 p.m.
ESPN
Sat., Sept. 3
USC at Hawaii
7 p.m.
ESPN2
Sat., Sept. 3
Delaware St. at Florida A&M
7 p.m.
ESPNU
Sat., Sept. 3
Texas A&M at Clemson
8 p.m.
ABC
Sat., Sept. 3
Notre Dame at Pittsburgh
8 p.m.
ABC
Sat., Sept. 3
Georgia Tech at Auburn
8:45 p.m.
ESPN
Sat., Sept. 3
UCLA at San Diego State
10:15 p.m.
ESPN2
Sat., Sept. 3
UTEP at New Mexico State
10:30 p.m.
ESPNU
Sun., Sept. 4
West Virginia at Syracuse
1:30 p.m.
ABC
Sun., Sept. 4
Louisville at Kentucky
3:30 p.m.
ESPN
Sun., Sept. 4
Tulane at Southern Miss
4 p.m.
ESPN2
Sun., Sept. 4
Virginia Tech at NC State
7:15 p.m.
ESPN2
Mon., Sept. 5
UNLV at New Mexico
1 p.m.
ESPN2
Mon., Sept. 5
Mississippi at Memphis
4:30 p.m.
ESPN
Mon., Sept. 5
Miami at Florida State
8 p.m.
ABC
Thu., Sept. 8
Oklahoma State at Florida Atlantic
7 p.m.
ESPN2
Thu., Sept. 8
Alcorn State at Southeastern Louisiana
7:30 p.m.
ESPNU
Fri, Sept. 9
Pittsburgh at Ohio
8 p.m.
ESPN2
Fri, Sept. 9
Washington State at Nevada
10 p.m.
ESPN
Sat., Sept. 10
Kansas State at Marshall
10:30 a.m.
ESPN2
Sat., Sept. 10
Clemson at Maryland
Noon
ESPN
Sat., Sept. 10
Temple at Wisconsin
Noon
ESPNU*
Sat., Sept. 10
Notre Dame at Michigan
Noon
ABC
Sat., Sept. 10
Army at Boston College
12:30 p.m.
ESPN Classic
Sat., Sept. 10
Colorado State at Minnesota
2 p.m.
ESPN2
Sat., Sept. 10
Hawaii at Michigan State
3:30 p.m.
ESPNU*
Sat., Sept. 10
Iowa at Iowa State
3:30 p.m.
ABC
Sat., Sept. 10
North Carolina at Georgia Tech
3:30 p.m.
ABC
Sat., Sept. 10
California at Washington
3:30 p.m.
ABC
Sat., Sept. 10
Northern Illinois at Northwestern
4 p.m.
ESPN Classic
Sat., Sept. 10
South Carolina at Georgia
5:30 p.m.
ESPN
Sat., Sept. 10
The Citadel at Florida State
6:45 p.m.
ESPNU
Sat., Sept. 10
Southern Miss at Alabama
7:45 p.m.
ESPN2
Sat., Sept. 10
Texas at Ohio State
8 p.m.
ABC
Sat., Sept. 10
Arizona State at LSU
8:45 p.m.
ESPN
Sat., Sept. 10
Weber State at Fresno State
10 p.m.
ESPNU
Thu., Sept. 15
Utah at TCU
7:30 p.m.
ESPN
Thu., Sept. 15
Hampton at North Carolina A&T
7:30 p.m.
ESPNU
Fri, Sept. 16
Houston at UTEP
8 p.m.
ESPN2
Sat., Sept. 17
Oregon State at Louisville
Noon
ESPN or ESPN2
Sat., Sept. 17
Virginia at Syracuse
Noon
ESPN or ESPN2
Sat., Sept. 17
Eastern Michigan at Michigan
Noon
ESPNU*
Sat., Sept. 17
Baylor at Army
3 p.m.
ESPN Classic
Sat., Sept. 17
Ohio at Virginia Tech
3:30 p.m.
ESPNU
Sat., Sept. 17
San Diego State at Ohio State
3:30 p.m.
ABC
Sat., Sept. 17
Pittsburgh at Nebraska
3:30 p.m.
ABC
Sat., Sept. 17
Oklahoma at UCLA
3:30 p.m.
ABC
Sat., Sept. 17
Kentucky at Indiana
6:45 p.m.
ESPN Classic
Sat., Sept. 17
Connecticut at Georgia Tech
6:45 p.m.
ESPNU
Sat., Sept. 17
Wisconsin at North Carolina
7 p.m.
ESPN2
Sat., Sept. 17
UNLV at Nevada
10 p.m.
ESPNU
Wed., Sept. 21
Bowling Green at Boise State
8 p.m.
ESPN2
Thu., Sept. 22
Air Force at Utah
7:30 p.m.
ESPN
Thu., Sept. 22
Louisiana-Monroe at Florida Atlantic
7:30 p.m.
ESPNU
Fri, Sept. 23
Iowa State at Army
8 p.m.
ESPN2
Fri, Sept. 23
Cal at New Mexico State
10 p.m.
ESPN
Sat., Sept. 24
Notre Dame at Washington
3:30 p.m.
ABC
Sat., Sept. 24
USC at Oregon
4 p.m.
ABC
Sat., Sept. 24
Michigan at Wisconsin
7 or 7:45 p.m.
ESPN2 or ESPN
Sat., Sept. 24
Hawaii at Idaho
10 p.m.
ESPNU
Sun., Sept. 25
Miles vs. Stillman
3 p.m.
ESPNU
Tue., Sept. 27
Toledo at Fresno State
9 p.m.
ESPN2
Wed., Sept. 28
Cincinnati at Miami (Ohio)
7 p.m.
ESPN2
Thu., Sept. 29
Air Force at Colorado State
7:30 p.m.
ESPN
Thu., Sept. 29
Southeast Missouri State at Samford
7:30 p.m.
ESPNU
Fri, Sept. 30
Pittsburgh at Rutgers
8 p.m.
ESPN2
Sat., Oct. 1
Nevada at San Jose State
4 p.m.
ABC
Sat., Oct. 1
Notre Dame at Purdue
7 or 7:45 p.m.
ESPN2 or ESPN
Sat., Oct. 1
BYU at San Diego State
10 p.m.
ESPN Classic
Tue., Oct. 4
Troy at North Texas
7:30 p.m.
ESPN2
Wed., Oct. 5
Miami (Ohio) at Northern Illinois
7:30 p.m.
ESPN2
Thu., Oct. 6
NC State at Georgia Tech
7:30 p.m.
ESPN
Thu., Oct. 6
South Carolina State at Norfolk State
7:30 p.m.
ESPNU
Fri, Oct. 7
Syracuse at UConn
8 p.m.
ESPN2
Sat., Oct. 8
Minnesota at Michigan
Noon
ABC
Sat., Oct. 8
Oklahoma vs. Texas (Cotton Bowl)
Noon
ABC
Sat., Oct. 8
Iowa at Purdue
4:30 p.m.
ESPN
Sat., Oct. 8
Ohio State at Penn State
7 or 7:45 p.m.
ESPN2 or ESPN
Sat., Oct. 8
Fresno State at New Mexico State
10 p.m.
ESPNU
Thu., Oct. 13
Clemson at NC State
7:30 p.m.
ESPN
Thu., Oct. 13
Louisiana-Lafayette at Arkansas State
7:30 p.m.
ESPNU
Fri, Oct. 14
UTEP at Tulane
8 p.m.
TBD
Thu., Oct. 20
Virginia Tech at Maryland
7:30 p.m.
ESPN
Thu., Oct. 20
Florida International at Troy
7:30 p.m.
ESPNU
Fri, Oct. 21
Southern Miss at UAB
8 p.m.
ESPN
Sat., Oct. 22
Purdue at Wisconsin
3:30 p.m.
ABC
Sat., Oct. 22
Penn State at Illinois
7 p.m.
ESPN2
Thu., Oct. 27
Boston College at Virginia Tech
7:30 p.m.
ESPN
Fri, Oct. 28
Colorado State at New Mexico
8 p.m.
ESPN2
Sat., Oct. 29
Washington State at USC
3:30 p.m.
ABC
Sat., Oct. 29
Fresno State at Hawaii
4 p.m.
ABC
Sat., Oct. 29
Michigan at Northwestern
7 or 7:45 p.m.
ESPN2 or ESPN
Tue., Nov. 1
UAB at Memphis
7:30 p.m.
ESPN2
Wed., Nov. 2
Connecticut at West Virginia
7:30 p.m.
ESPN2
Thu., Nov. 3
Pittsburgh at Louisville
7:30 p.m.
ESPN
Thu., Nov. 3
Southern at Texas Southern
7:30 p.m.
ESPNU
Fri, Nov. 4
Toledo at Ohio
8 p.m.
ESPN2
Sat, Nov. 5
Army at Air Force
3:30 p.m.
ESPN Classic
Tue., Nov. 8
Southern Miss at Marshall
7:30 p.m.
ESPN2
Wed., Nov. 9
West Virginia at Cincinnati
7:30 p.m.
ESPN2
Thu., Nov. 10
Morgan State at South Carolina State
7:30 p.m.
ESPNU
Thu., Nov. 10
Boise State at Fresno State
8 p.m.
ESPN
Fri, Nov. 11
Rutgers at Louisville
8 p.m.
ESPN2
Sat., Nov. 12
Arizona State vs. UCLA
4 p.m.
ABC
Tue., Nov. 15
Bowling Green at Miami (Ohio)
7 p.m.
ESPN2
Tue., Nov. 15
Ohio at Akron
7:30 p.m.
ESPNU
Wed., Nov. 16
Northern Illinois at Toledo
7:30 p.m.
ESPN2
Thu., Nov. 17
Miami at Wake Forest
7:30 p.m.
ESPN
Thu., Nov. 17
Stephen F. Austin at Northwestern State
7:30 p.m.
ESPNU
Fri, Nov. 18
Arkansas-Pine Bluff at Texas Southern
8 p.m.
ESPNU
Sat., Nov. 19
California at Stanford
4 p.m.
ABC
Mon., Nov. 21
Miami (Ohio) at Ohio U.
7:30 p.m.
ESPNU
Tue., Nov. 22
Toledo at Bowling Green
7 p.m.
ESPN2
Wed., Nov. 23
Western Michigan at Northern Illinois
1:30 p.m.
ESPN2
Thu., Nov. 24
Kent State at Akron
10 a.m.
ESPNU or ESPN2
Thu., Nov. 24
Tuskegee at Alabama State
2 p.m.
ESPNU
Thu., Nov. 24
Pittsburgh at West Virginia
8 p.m.
ESPN
Fri, Nov. 25
Texas at Texas A&M
Noon
ABC
Fri, Nov. 25
Nebraska at Colorado
3:30 p.m.
ABC
Fri, Nov. 25
Wisconsin at Hawaii
9 p.m.
ESPN2
Thu., Dec. 1
2005 MAC Championship
7:30 p.m.
ESPN
Fri, Dec. 2
Louisiana Tech at Fresno State
9 p.m.
ESPN2
Sat., Dec. 3
2005 Big 12 Championship
1 p.m.
ABC
Sat., Dec. 3
UCLA at USC
4:30 p.m.
ABC
Sat., Dec. 3
2005 ACC Championship
8 p.m.
ABC
Sat., Dec. 3
2005 C-USA Championship
TBD
ESPN
Sat., Dec. 3
Louisville at UConn
TBD
ESPN
Pur - Who?
How do the Boilermakers play a full BIG 10 schedule this year and not play Ohio State or Michigan? Answer me that! Can you say soft schedule. Everbody is hyping - up the BIG 10 this year with Michigan, Ohio State, Iowa, and Purdue being 4 really strong teams with legitimate shots at the national title. Don't forget about Illinois!

Wednesday, August 10, 2005
Ranking the Conferences Top to Bottom!
Here's what Maisel and Forde from ESPN have to say about the conferences this year. Looks like everybody loves the BIG 10 in the pre-season. Here's the breakdown....
Ivan goes first then you'll see Pat Forde's:
1. Big Ten. Not often do you have four teams from the same league mentioned as top-five teams. Michigan, Ohio State, Iowa and Purdue are all getting pub. 1. Big Ten. Three national title contenders in Michigan, Ohio State and Iowa, plus possibly a fourth in Purdue, thanks to the scheduling gods. Penn State, Michigan State, Minnesota, Wisconsin aren't too bad, either.
2. SEC. Six teams in the first coaches' Top 25, and Steve Spurrier to boot. Power ebbs and flows in most leagues -- not this one. 2. SEC. Should have six very good teams: Florida, Tennessee and Georgia in the East; LSU, Auburn and Alabama in the West. The question is whether anyone in that group is a Rose Bowl team. And returning Steve Spurrier to the mix is never a bad thing.
3. ACC. It will be interesting to see how the teams adjust to divisional play. Virginia Tech-Miami is destined to become an even greater rivalry. 3. Big 12. The only thing seriously hurting this league is the dramatic imbalance in divisions. The South is loaded: Texas, Oklahoma, Texas A&M and Texas Tech are all Top 25 caliber. The North needs someone -- anyone -- to step forward as a viable champion.
4. Big 12. Three top teams in the South, and maybe, in Texas Tech, a fourth. The North? Well, there are three top teams in the South, and maybe, in ... 4. ACC. Breathing down the Big 12's thick neck. Coastal Division mates Miami and Virginia Tech look like top-10 teams. FSU is the big question mark after a tough summer, and could be pushed by BC in the Atlantic Division.
5. Pac-10. On the upswing. Look for improvement from Oregon, Arizona State and UCLA. USC will have more tough conference games than it's had since Pete Carroll's first season (2001). 5. Pac-10. Unfair to call it USC and nine pencil necks -- but tempting. If Cal sustains last year's success after major turnover, or Oregon rebounds, or Arizona State makes a smooth transition at QB, or UCLA finally lives up to expectations, this league will have some second-tier quality. If not, the Trojans' toughest opponents might be Fresno State and Notre Dame.
6. Big East. Louisville brings credibility and a top-10 presence. Dave Wannstedt at Pitt and Greg Robinson at Syracuse can help restore the league's stature, too. 6. Big East. Adding Louisville gives the beleaguered Big East a top-15 team and dark horse national title contender. The rest of the league is in flux: new coaches at Pitt and Syracuse, new quarterbacks at West Virginia and UConn, new blood from South Florida and Cincinnati. Same old paralysis at Rutgers.
7. MAC. Quarterbacks Bruce Gradkowski of Toledo, Omar Jacobs of Bowling Green and Josh Betts of Miami make this league the best of the rest. 7. Mountain West. Talk about a league in transition. Utah gave the MWC a year to remember -- then virtually disbanded. With three new head coaches and a new member (TCU), it's tough to say who rises to the top. But the top and bottom shouldn't be too far apart this year, which will make things interesting.
8. Conference USA. UAB, Memphis, Southern Miss and UTEP provide a solid foundation in the new two-division format. Getting Marshall up to speed quickly will help. 8. WAC. There's a huge disparity between the top and bottom here. Fresno State and Boise State are Top 25 teams, while San Jose State, Idaho and Utah State could be outside the top 100. But it's better to have a couple of teams of national consequence than none at all.
9. Mountain West. The afterglow of Utah's run last season helps. So do the rise of Wyoming and the ongoing renovations of BYU and UNLV. 9. MAC. Similar to the WAC. Bowling Green, Toledo and Miami look very strong at the top, but it's a long way down the line to the lower levels of this 12-team league. Losing Marshall and Central Florida helps geographic continuity.
10. WAC. After Boise State and Fresno State, the league drops off. Keep an eye on Dick Tomey at San Jose State. All he did at Hawaii and Arizona is win. 10. Conference USA. Probably better at the middle and bottom than the WAC or MAC -- but why get caught up in the middle and bottom of a league? The top is what matters, and C-USA is pretty soft there. A league with no teams in the top 50 doesn't command much attention.
11. Sun Belt. Two best teams, North Texas and Middle Tennessee State, play at LSU and at Alabama, respectively, in paycheck games Sept. 3. That will be a good barometer. 11. Sun Belt. The plucky little league has made two improvements: Members have stopped scheduling eight road games, and the Belt has closed down its Rocky Mountain Bureau, settling more sensibly into the Southeast. Still waiting for someone to dethrone North Texas.
Tuesday, August 09, 2005
Pre-Season Illini Hype - How Far Will We Go?
I mean really, as we head into Fall in Champaign - Urbana where are my expectations? After all, for die-hard Illini fans this has historically been known as the 'filler' season between summer and basketball.

And then there was the ruling this week by the NCAA on hostile and abusive names. Long - live the NCAA and their rules committees. Even the native-americans are pissed off at this decision. They claim it's another case of the white-man telling the red-man what to do and what to think. At least Florida State has it right by taking the NCAA to court. Come - on! Even Governor Jeb Bush (George's little brother) had something to say about this one, "I think it's offensive to native Americans ... the Seminole Indian tribe who support the traditions of FSU," Bush said on his way into a Cabinet meeting. "I think they insult those people by telling them, 'No, no, you're not smart enough to understand this. You should be feeling really horrible about this.' It's ridiculous".

That put aside for now (sure to come back here later), ILLINOIS can expect some good things in 2005. We will win more than 3 games this year. Book - it!

Zook's offensive philosophy is to spread things out quite a bit. We have two of the best running backs in the BIG 10 in Thomas and Halsey. Getting them as many touches as possible is going to be key especially early in the season.

Our defensive secondary will also have to step - up and provide early season leaderhip on that side of the ball. We return a wealth of talent at all 4 positions. Not to mention three of the first four games are at Memorial Stadium. We also don't play Michigan or Minnesota this year and that should help some too.

The first real big test is against Michigan State at home in late September. Zook has the Illini Nation talking the 'B' word for the first time in a few years - yes BOWL GAME! Can you say 6 wins? I can....but going 6 and 5 this year is going to be tough. Nonetheless, count on at least one major upset by this young and motivated bunch. Oskee - WA WA! Hail to the Chief!